Here it is the first of March and, due to many customer requests, Frank is already busy baking Shamrock Sugar Cookies. We don't know if the Leprechans actually used green sprinkles on their's, but Frank certainly makes the most of their decorative qualities! He's also baking Irish Soda Bread to commemorate the celebration of St. Patrick's Day. And his legendary Hot Cross Buns are available this month atop the bakery case.
Speaking of our large bakery case, that's the spot where you'll find a wide selection of Fruit Pies, Cream Pies, Deep Dish Apple Pies, Custard Pies, Dessert Cakes, Filled Cookies and Pastries. Frank has also stocked up on our famous Meat Pies.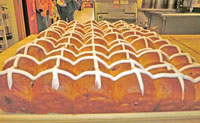 Our Meat Pies are made right here using a traditional Mazza Family recipe and are just the ticket for creating a quick and easy meal after a day of sledding or skiing and are sure to please your family. You'll find them in the frozen food case.
Click on the Bakery Button on the web menu above and take a look at the list of all the bakery treats that are baked from scratch right here on premise. You can print out a Bakery Order Form and fax it in or drop it off at the cashier's counter and have your Bakery items ready and waiting for you for your family get-togethers.
From crusty breads and fluffy dinner rolls to the sweetest dessert items, we take pride in the quality and the freshness of our Baked Goods.