November is the Gateway to the Holiday Season and we are ready! From the Bakery to our Expanded Gift Department and even ordering Misty Knoll Thanksgiving Turkeys, We Do it ALL!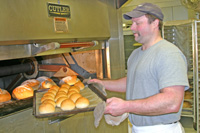 Many of our most treasured Holiday memories are generated around the family dinner table. And for our Head Baker Frank Peters, the Holiday Season is a time he takes very seriously, helping to make those memories sweet and delicious.
Frank, with the able assistance of his brother Kevin, has logged many many hours stocking up, prepping and readying our full service sevenday-a-week Bakery for the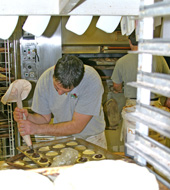 Holiday rush.
Frank has also added Holiday favorites like Pumpkin Mousse Logs for Thanksgiving and Traditional Stollen, Butter Spritz Cookies and Chocolate Yule Logs for The Christmas Season.
Be sure and get your orders in for your Thanksgiving Dinner Rolls, Pumpkin and Apple Pies!
In addition to stocking our large bakery case with a wide selection of Fruit Pies, Cream Pies, Deep Dish Apple Pies, Pecan Pies, Custard Pies, Dessert Cakes and Pastries, Frank has also stocked up on the Meat Pies, both frozen and fresh baked.
Our Meat Pies are made using a traditional Mazza Family recipe, are just the ticket for creating a quick and easy meal during the busy Holiday season and are sure to please your entire family.
Click on the Bakery Button on the web menu above and take a look at the list of all the wonderful bakery treats that are baked from scratch right here on premise. You can print out a Bakery Order Form and fax it in or drop it off at the cashiers counter to be sure that your Holiday favorites are ready and waiting for you for your family feasts.
From crusty breads and fluffy dinner rolls to the sweetest dessert items, we take pride in the quality and the freshness of our Baked Goods.


TASTE THE BEST! Place Your Orders Now to Enjoy Fresh Vermont Misty Knoll Turkeys! Misty Knoll starts their turkeys in a large brooder house, sheltered from the elements, until they are capable of withstanding Vermonts cool nights. Then the flocks are moved to open barns with free access to lush pasture, sunlight, wholesome feed and fresh water. Allowed to grow naturally to size, Misty Knoll Farms turkeys are robust and meatier.
Call to order through Wednesday, November 15th. Fresh Vermont Misty Knoll Turkeys are priced at $3.99 per pound and a $25.00 deposit is required when you place your order.

You just have to come in and see our expanded Gift Department at the front and right hand side of the Market! We carry a terrific selection of stunning gifts and eye-catching home decor items at most affordable prices.
We carry gifts for Home & Garden including candles and accessories from Yankee Candle Co., collectibles from Willow Tree, colorful plush, jewelry, bird feeders, decorative planters, birdbaths, baskets and much more.

Though we have specialized in Vermont Specialty Food products for decades, we also take pleasure in carrying Jake & Amos Amish style fruits and vegetables from Pennsylvania Dutch country. Using the finest ingredients, Jake & Amos have captivated the true essence of "homemade" through the Amish Style Recipes. High quality, unique and great tasting, Jake & Amos offers an abundance of healthy foods to be used as entrees, side dishes, snacks or desserts.
The Amish Style Recipes have been handed down through the generations combining hand picked fresh vegetables, fruits and seasonings producing the best pickled vegetables,eggs, canned fruits and relishes.
Click HERE to Print Out Your Own NOVEMBER Coupon Redeemable at the Farm Market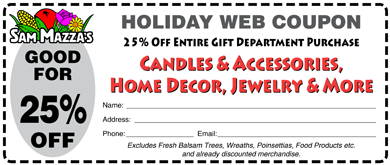 Yes, We Have The Holiday Spirit and
Yes, We Have Everything You Wish to Help
You & Your Family Celebrate a Traditional
Vermont Christmas! We Do it ALL!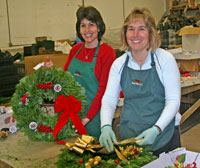 Our Fresh and Bushy Vermont Christmas Trees are grown in Greensboro Bend in the Northeast Kingdom and will be on display in early December all the way down the outside Market wall on the right side of our front door.
And under the canopy at the front door, you'll find an eye-catching selection of our own hand-decorated wreaths in several sizes.
Each year the Mazza sisters engage in a friendly, yet spirited, decorating competition at the beginning of December to get into the Holiday spirit. They generate hundreds of individually decorated wreathes that are one of a kind and very festive.
There are also undecorated wreathes available and a spool of garlands to enhance your Holiday decor.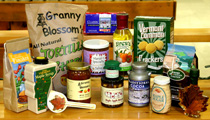 As anyone who has ever visited our Farm Market knows, we specialize in Vermont Specialty Food Products in addition to the items we have gathered from around the region and everything we grow and produce ourselves. We particularly enjoy building Vermont Food Gift Crates and Baskets so that you can share the bounty of Vermont with your family, friends and business associates.
From Maple Products to Cheese, Coffee, Cocoa, Pancake Mixes, Mustards, Salsa, Honey and many many more tasty items, we have packed a variety of mouth-watering gift crates for you to take with or for us to ship for you. We have many to choose from in all price ranges and we are happy to build custom gift crates and baskets to order.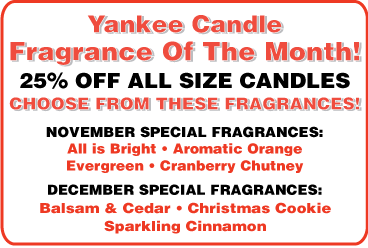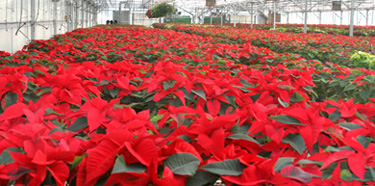 Because we grow all our own Poinsettias right here in our greenhouses, youll notice the brighter and richer colored leaves on our plants. We started over 7,500 Poinsettia plants way back in July for your Holiday decorating pleasure and they are spectacular! Visit our greenhouse and choose Poinsettia Plants in 10 different shades. Properly watered and loved, these beautiful plants will last throughout the Holiday season.
Click on the Sale Coupon button below and print out our December Web Coupon and bring it in for $2 Off the purchase of a 6 Poinsettia plant. By the way, we also carry a wide selection of House Plants and Christmas Cactus in our Greenhouse!
Click HERE to Print Out Your Own DECEMBER Coupon Redeemable at the Farm Market