It Just Does Not Get Any Fresher or More Flavorful Than This!
We are very proud of the fruits and vegetables that we plant, nurture, harvest and bring to you in our Farm Market… just steps from where they were grown and picked here on Sam Mazza's 350 Acre Family Farm. Take a look at the schedule of availability below so that you can enjoy the very best fruits and vegetables at their peak of Freshness and Flavor. And you can be assured that Fresh means Healthy!
We also Carry Seasonal Fruits & Vegetables such as Lettuce, Cauliflower, Pennsylvania Peaches, Plums, Nectarines, Assorted Melons, Italian & Hot Peppers.
We Carry the Following Fruits & Vegetables on a Year Round Basis: Fuji & Granny Smith Apples, Oranges, Kiwi, Lemons & Limes, Seedless Grapes, Pears, Grapefruit, White Mushrooms, Summer & Zucchini Squash, Cucumbers, Iceberg Lettuce, Celery, Green Peppers, Carrots & Avocados.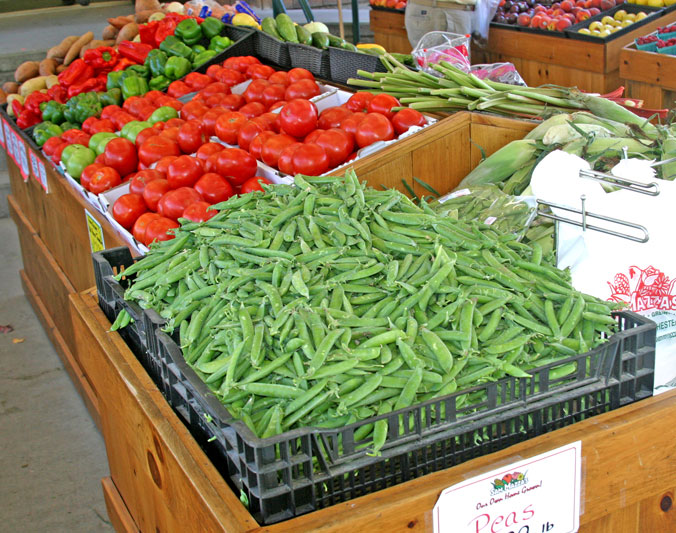 Our Own Home-Grown Produce Schedule of Availability
VARIETY
M

AY

J

UNE

J

ULY

A

UG.

S

EP.

O

CT.

GREENHOUSE TOMATOES

X

X

X

SCALLIONS / RADISHES

X

X

X

STRAWBERRIES

X

BEET GREENS

X

SUMMER / ZUCCHINI SQUASH

X

X

X

BROCCOLI

X

X

PEAS

X

X

BEANS- YELLOW / GREEN

X

X

CABBAGE

X

X

X

X

CUCUMBERS – REGULAR / PICKLING

X

X

X

SWEET CORN

X

X

X

X

BLUEBERRIES

X

X

BEETS

X

X

FIELD TOMATOES / CHERRY / GRAPE

X

X

X

GREEN PEPPERS

X

X

RASPBERRIES

X

X

EGGPLANT

X

X

X

POTATOES

X

X

X

VERMONT APPLES & CIDER

X

X

WINTER SQUASH – BUTTERCUP / BUTTERNUT / ACORN

X

X

PUMPKINS – PIE PUMPKINS

X

X
Tooltip Text